Press About Us
---
Arizona Highways Magazine, September 2010 -
"Not Just for the Birds"
Although Madera Canyon is world-renowned for its bird-watching, there are other reasons people flock there, including hiking and the Chuparosa Inn, a cozy B&B that offers an idyllic dose of R&R.

By Nikki Buchanan

Photos by Brandon Sullivan
click on photo for larger view
MADERA CANYON Although the Chuparosa Inn is just 40 miles southeast of Tucson, it feels a world away. And in many respects, it is — given that this rustic slice of paradise, nestled among the live oaks, sycamores and cottonwoods of Madera Canyon, is part of a sky island created by the Santa Rita Mountains and the surrounding desert floor. With burbling Madera Creek running along the property's edge, the Chuparosa, which means "nectar-sucker" or "hummingbird" in Spanish, is home to 15 species of that flitting critter, which show up in such high numbers that the site has become a bona fide research station for ornithologists who've initiated a banding program. Guests lucky enough to be around on a Monday morning in spring might be allowed to hold a hummingbird, feeling its tiny, 1,200-beats-per-minute heart banging against their palms.

Avid birders also flock to the inn to catch glimpses of more than 200 other avian species, including the elegant trogon, a rare and colorful beauty that flies in from Mexico in the warmer months. Deer, javelinas, wild turkeys, coatimundi, mountain lions and even bears sometimes make an appearance, as well, which explains the bear-proof birdhouses and feeders (more graceful than you'd imagine) found on the flower-filled and terraced patios that hug both sides of the creek. Wildlife or no, these are soothing places to relax and listen to the wind in the trees.
read more....
---
Arizona Highways TV Show highlights "A Different Kind of Bird House and "A Hiker's Paradise"

" A Different Kind of Bird House"
---
" A Hiker's Paradise"
---
Phoenix Magazine, May 2003 - Feature article by Kathy Montgomery on Arizona's Best B&B's...
"It took Luis Calvo an Nancy Hertel two years to build the distinctive structure -- with its imposing, native-stone turret and terraced gardens. They intended this to be their summer home, but turned it into a B&B when Luis decided to abandon his Phoenix law practice to live in the canyon year-round. Now the Chuparosa Inn provides temporary roost for birders who need go no farther than the creekside patios to view several varieties of hummingbirds, which swarm the feeders in such numbers that ornithologists visit weekly to band them. And, with access to trails that ascend as far as the nearly 10,0000 - foot peak of Mount Wrightson, a fair number of hikers and other naturalists make the trek too...."
---
AN INSIDER'S VIEW
-
The Canyon Chatter
The sound of the woodpeckers pounding acorns into the cedar shingles drifts into my consciousness. Wake up…it's morning. The birdsong outside my bedroom window rises to a crescendo urging me to get up and start another glorious morning in Madera Canyon. I glance out the open window and see the sycamore's leaves fluttering in the light breeze as the cool air sinks down canyon. Even though it's August there is a hint that fall is near.
The sound of the creek gurgles through the screen. The monsoon rains were light, so far this season, and the creek is just a trickle. I marvel at what life that little trickle brings to the canyon. The resident lesser goldfinches splash in the creek and happily wash yesterday's dust from their feathery coats.
I hurry out the door and start up the road just as the dawn light illuminates Mount Wrightson in a hazy glow. Behind me a mosaic of light and shadow drapes the east facing slopes of canyon signaling that the sun will soon peak over Baldy Saddle. As the sun rises, the evening primrose begin to close their golden petals and the sphinx moths know that dinner is over. At the same time the buzz of hungry insects grows as we approach a small patch of blooming beebalm.
We reach the picnic area and pause at Table 14 for a sip of coffee. Our four legged companions let us lose ourselves in the view as they look for leftovers. It doesn't take them long to finish their hunt and we finish the coffee and head up canyon.
A squeeze toy sounds in the distance and instantly my mind conjures up the picture of a Sulpher-bellied flycatcher. A gang of Mexican Jays scolds an unseen intruder across the hillside. Is it a bear or a bobcat or just a black-tailed rattler soaking up the morning sunlight? An LBJ (little brown jobber) chats us up from a thicket and will remain unidentified because there is no time to linger.
At the Bud Gode bench we stop to reflect on all the souls that have found comfort and solace in this wonderful canyon. Out of habit we search the trees looking for the Northern Pygmy owls that played hide and seek with us earlier this year. No sign of them this day, but as we head back down the trail there is always a feeling that they are watching and waving good morning from a hidden perch.
As we head home there is a noticeable stillness that calms the mind, replenishes the spirit and nourishes the soul. The heavy air funnels through the trees and down canyon cooling the backs of our necks. We admire the gracefully twisted Sycamore trees that line the creek bed and are a testament to the power of the monsoon rains. I am lost in the moment, until Blue grabs the leash in her mouth and hurries us towards the house. She is hungry and Mattie is too.
The warm sun on our backs is a reminder that summer is still here. Tomorrow will bring another day in a canyon we call Madera. (Nancy Hertel lives at the Chuparosa B & B in Madera Canyon with her husband, Luis, and their two Australian shepards Mattie & Blue.
---
Arizona Daily Star - Tony Davis - Posted Sunday, September 19, 2010
Sun, Santa Cruz Valley, July 2000 - feature article by Karen Walenga writes...
" Many folks in the Santa Cruz Valley, as well as across the United States and internationally, know Madera Canyon as a cool, wooded oasis for birders, hikers and other nature lovers. And some of them have been quick to discover a recent addition to the choices for overnight accommodations in this lush canyon in the western Santa Rita Mountains..."
Southern Arizona's Backroad, Story by Bill Norman writes...
"Chuparosa" ("suck the rose" or "rose-sucker" in Spanish) is a nick-name for hummingbirds, and 24 different varieties have been identified near the B&B. Raccoons, ringtail cats, javelina and bears are their companions. Along with other mountainous areas of southern Arizona, this is a bird-watchers' and hikers' paradise...."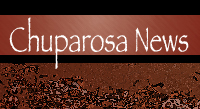 Things to do while here..
WRITE A REVIEW on
BnBFinder.com
Click below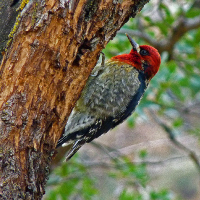 Social Media



Your Hosts:
Luis Calvo & Nancy Hertel
Chuparosa Inn
Bed & Breakfast
1300 S. Madera Canyon Rd
Madera Canyon, AZ 85614
520.393.7370