Press About Us
---
Arizona Highways Magazine, September 2010 -
TO SEE THE ARIZONA HIGHWAYS VIDEO CLICK HERE

"Not Just for the Birds"

Although Madera Canyon is world-renowned for its bird-watching, there are other reasons people flock there, including hiking and the Chuparosa Inn, a cozy B&B that offers an idyllic dose of R&R.

By Nikki Buchanan - read article on Arizona Highways Website
Photos by Brandon Sullivan
click on photo for larger view
MADERA CANYON Although the Chuparosa Inn is just 40 miles southeast of Tucson, it feels a world away. And in many respects, it is — given that this rustic slice of paradise, nestled among the live oaks, sycamores and cottonwoods of Madera Canyon, is part of a sky island created by the Santa Rita Mountains and the surrounding desert floor. With burbling Madera Creek running along the property's edge, the Chuparosa, which means "nectar-sucker" or "hummingbird" in Spanish, is home to 15 species of that flitting critter, which show up in such high numbers that the site has become a bona fide research station for ornithologists who've initiated a banding program. Guests lucky enough to be around on a Monday morning in spring might be allowed to hold a hummingbird, feeling its tiny, 1,200-beats-per-minute heart banging against their palms.

Avid birders also flock to the inn to catch glimpses of more than 200 other avian species, including the elegant trogon, a rare and colorful beauty that flies in from Mexico in the warmer months. Deer, javelinas, wild turkeys, coatimundi, mountain lions and even bears sometimes make an appearance, as well, which explains the bear-proof birdhouses and feeders (more graceful than you'd imagine) found on the flower-filled and terraced patios that hug both sides of the creek. Wildlife or no, these are soothing places to relax and listen to the wind in the trees.

With its multiwindowed turret, made of native stone and wood, the inn looks a bit like a minicastle, yet manages, somehow, to seem quaint and cozy, thanks to a multitude of homey touches. Four guestrooms, each furnished with private baths and reached by private entry, display the work of local photographers, artists and artisans, all of whom celebrate nature with a capital "N." The Elegant Trogon Suite (more like a small apartment and the only guestroom to boast a full kitchen, a TV and a stacked washer/dryer) contains enough books on the subject to keep an outdoors enthusiast reading for years.

In addition to bird-watchers, these are the folks most likely to visit Chuparosa: hikers who want to tackle one of the canyon's many trails, some of them short and easy, others requiring considerably more expertise and stamina. Go-getters ascend to nearly 10,000 feet on the summit of Mount Wrightson, which is capped with snow a good portion of the year. All trailheads are just minutes from the inn.

Knowing that many of their clients prefer to do their own thing, owners Luis Calvo and Nancy Hertel — who live above the guestrooms — stock each kitchen or kitchenette with everything necessary for a healthy, rib-sticking breakfast: juices, coffee, cocoa and milk, fresh fruit, yogurt, dry fruit-studded granola, freshly baked muffins, and something main course-y like quiche or pancakes. Guests get up and get breakfast at their leisure, no need to worry about racing downstairs to join the others.

And that's the beauty of this charming B&B, where you're free to be as lazy or as energetic as you want to be.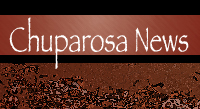 Things to do while here..
WRITE A REVIEW on
BnBFinder.com
Click below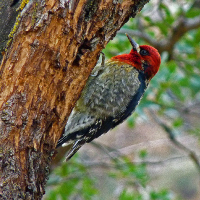 Social Media



Your Hosts:
Luis Calvo & Nancy Hertel
Chuparosa Inn
Bed & Breakfast
1300 S. Madera Canyon Rd
Madera Canyon, AZ 85614
520.393.7370