"
"Things To Do"
---
Arizona Sonora Desert Museum -

Learn more about the plants and animals of the Sonoran Desert.

Eastbound: exit I-10 at Speedway Blvd and turn right. After 12 miles, turn right onto Kinney Road. In about 2.5 miles, the Desert Museum will be on your left.

Westbound: exit I-10 at 29th Street, take the frontage road north to Speedway Blvd and turn left. After 12 miles, turn right onto Kinney Road. In about 2.5 miles, the Desert Museum will be on your left.

Open every day of the year!

October - February 8:30 am - 5:00 pm (no entry after 4:15 pm) March - May 7:30 am - 5:00 pm (no entry after 4:15 pm) June - August Sun-Fri: 7:00 am - 4:30 pm (no entry after 3:45 pm) Sat: 7:00 am - 10:00 pm (no entry after 9:15 pm) (Summer Saturday Evenings) September 7:00 am - 4:30 pm (no entry after 3:45 pm)

---

Kartchner Caverns
Read Cave Tour Information
Experience a stunning limestone cave in Southeastern Arizona that boasts world-class features. This "live" cave, discovered in 1974, is host to a wide variety of unique minerals and formations. Water percolates from the surface and calcite formations continue to grow, including stalactites dripping down like icicles and giant stalagmites reaching up from the ground. Tour guides will unveil this fascinating underground landscape during a memorable 1½ hour tour. The Discovery Center features museums exhibits, a large gift shop, regional displays, theater, and educational information about the caverns and the surrounding landscape. There are also campgrounds, hiking trails, lockers, shaded picnic areas, a deli, an amphitheater, and a hummingbird garden.

---

Old Tucson Studios: This movie studio location is also a theme park with gunfights and stunt shows.


Experience the Old West! Just fifteen minutes from Tucson at the base of the Tucson Mountains lay a preserved slice of Americana, Old Tucson.

Passing through the gates of an old frontier town, visitors from around the globe are transported back to a time when fearless men with six shooters ruled the Old West. The perfect setting for the more than 300 movies and television productions filmed at the location since 1939.

Expanding beyond the movie sets and memorabilia of this rich film history, Old Tucson is now the premier attraction in the Southwest to experience what life in Old West was really like.

Just a stroll down the street is an adventure as you lean the perils of a cross-country trip by stagecoach or the demands of life as the sheriff of a Wild West town. Turning the corner, you might find yourself learning the ways of Native peoples in the newly constructed Native Village.

FOR MORE INFORMATION CLICK HERE

---

Saguaro National Park: Bike or drive the scenic 9 mile drive through 100's of acres of magnificent saguaro cactus.
Saguaro National Park Saguaro National Park has two districts. The Rincon Mountain District is located to the East of Tucson Arizona and the Tucson Mountain District is located to the West of Tucson AZ. In 1933 Saguaro National Monument was created. The Saguaro Wilderness Area of 71,400 acres was added in 1975. Saguaro National Park was created from these areas in 1994 and currently encompasses 91,327 acres in its two districts. The Eastern Rincon Mountain District rises to over 8,000 feet and includes over 128 miles of trails. The Western Tucson Mountain District is generally lower in elevation with a denser saguaro forest. Tucson hotels and Tucson resorts are generally more expensive during Tucson's winter months due to the mild temperatures. However you can generally get very good deals at Tucson resorts if you can come in the heat of the summer.


FOR MORE INFORMATION CLICK HERE

---

Nogales - Old Mexico: Park on the US side and walk across for a shopping and dining adventure in old Mexico.
Nogales, Arizona, is a progressive city that has been able to maintain its small town charm, rich traditions, and vibrant culture. The city is the county seat for Santa Cruz County and shares its rich heritage with Nogales, Sonora, its sister city in Mexico.

Located along Arizona's southern boundary, the City of Nogales, Arizona, borders Nogales, Sonora, Mexico, and is Arizona's largest international border town. Nogales, Arizona, is a major international gateway along the United States-Mexico border.

Due to the International Border, Nogales is the economic capital of the region and serves as one of the major gateways into the United States. Visitors cross the border between both cities for site-seeing and shopping on a daily basis.

Nogales, Arizona and Nogales, Sonora form a single, functional and complex urban fabric in which some members of the same family may live on the United States while others may reside in Mexico, creating a sense of fluidity that impacts all aspects of life, including culture, language, heritage, character, identity, context, environment and economy.
Referred to as Ambos Nogales, the communities of Nogales, Arizona and Nogales, Sonora, México comprise the largest international border community in Arizona, with a combined population of 177,732 inhabitants as of the 2000 U.S. and Mexican censuses (U.S. Census Bureau 2000, Instituto Nacional de Estadistica Geografia e Informatica 2000). Ambos

Nogales was once an easy, friendly and relaxed two-nation border town. The urban fabric is now split in two, separated by an international border, yet still Ambos Nogales remains heavily reliant on each other. Ambos Nogales continues to share their families, cultures, heritages, characters and identities

FOR MORE INFORMATION CLICK HERE




---

Tubac: The oldest European settlement in Arizona is now a thriving arts and crafts community of shops, galleries, and restaurants.




Scenic high desert vistas surround Tubac, and the village enjoys a year-around economy that benefits from summer temperatures notably cooler than Tucson or Phoenix. More than 100 businesses now line Tubac's meandering streets, and a full day can be enjoyed wandering through the numerous art galleries, working studios and gift shops.

The Tubac Center of the Arts provides a full range of arts programming, and seasonal exhibitions should not be missed. A variety of locally owned restaurants are open for breakfast, lunch and dinner, and our comfortable bed & breakfasts mean that your visit to Tubac doesn't have to end when the shops close!

The Art Colony of Tubac was established in 1752 as a Spanish presidio (fort). Working artists' studios now surround the grounds which once served as the home for a Spanish military garrison. Tubac remembers its origins at the Tubac Presidio State Historic Park located in the village's Old Town. No visit to Tubac is complete without a stop at Arizona's First State Park.

---

Spanish Missions: Tumacacori is a 1795 Spanish mission and museum. San Xavier is one of the finest examples of mission architecture in the US. Tumacácori National Historical Park Tumacácori NHP protects three Spanish colonial mission ruins in southern Arizona: Tumacácori, Guevavi, and Calabazas.
The adobe structures are on three sites, with a visitor center at Tumacácori. These missions are among more than twenty established in the Pimería Alta by Father Kino and other Jesuits, and later expanded upon by Franciscan missionaries.

---

Titan II Missile Museum: travel 100 ft underground to see a decommissioned Titan II ICBM in its underground silo and tour the war room.

---

Fishing and Boating: Patagonia Lake and Pena Blanca Lake.
Patagonia Lake is a beautiful lake nestled in the hills near Nogales, south of Tucson and is the centerpiece of Patagonia Lake State Park.

It is conveniently located near a number of top Arizona attractions, including Kartchner Caverns and Tombstone, Arizona.

The lake spans over 250 acres and is 2-1/2 miles long.

CLICK HERE FOR MORE INFORMATION
Peña Blanca Lake This medium-sized body of water fills 49 acres of Peña Blanca Canyon in the Pajarito Mountain foothills of Nogales.

Surrounded by grassy, oak-dotted hills, some of which are topped with bluffs of limestone, Peña Blanca Lake is a popular recreation spot for visitors from both Nogales, Arizona and Mexico, just across the border. A mountain lake located at around 4,000 feet above sea level, Peña Blanca was built in 1957 by the Arizona Game and Fish Department. It provides water-related recreation year-round, though temperatures can be cool in the winter months. On weekends, and even weekdays, during the peak summer season, this area can be quite crowded.

For directions and other visitor information, CLICK HERE

---

Vineyards: the nearby Sonoita/Elgin area has over 250 acres of vineyards. Some of the local wineries are open to visitors who wish to sample the local varieties.
Sonoita Vineyards offers an array of award winning wines ranging from crisp and fruity to bold and complex.

Our Tasting Room and Gift Shop are open from 10:00 a.m. to 4:00 p.m daily. Sonoita Vineyards is located approximately one hour southeast of Tucson just off of scenic Hwy 83.

We invite you to partake in a truly unique wine tasting experience with a picturesque view of hillside vineyards, rolling grasslands and scenic mountain ranges.

As the first winery established in Sonoita, Arizona, our history is as rich as our wines and a great place to start your wine tasting adventure!




---

Stargazing: Visit world class astronomical observatories including the Whipple Observatory and Kitt Peak.

---

Courtesy of www.FriendsofMaderaCanyon.org.
Madera Canyon is known for its exceptional and varied hiking trails. Close to 100 miles of hiking can be enjoyed virtually year-round. Madera's hiking trails vary from paved, handicap-accessible trails and gentle walking paths in the lower canyon, to steep, expert trails leading to the top of 9,453 Mt. Wrightson.

Friends of Madera Canyon publishes a comprehensive "Hiking in Madera Canyon" that is available at the Visitor Information Station and at trailheads. The guide includes general hiking rules, as well as a description of over 12 hikes. Each hike includes a brief description, a "grade" relative to difficulty, round-trip length, and cumulative elevation gain.

Accessible Trails: two paved loops are available for wheelchairs -- one from the Whitehouse picnic area and one from the Proctor Parking area.

Remember – bring two quarts of water or more on long day hikes!

Madera Canyon is a lovely location for a picnic, especially when escaping the summer heat of southern Arizona. Picnic tables and grills are located near parking areas throughout the canyon. Advanced reservations are not available. The Whitehouse Picnic Area provides for larger groups of 40 or more. The Mt. Wrightson Picnic Area has many sites, some with beautiful vistas. All picnic areas have nearby bear-proof trash receptacles and accessible toilets. You must bring your own charcoal, as there is no firewood available in the Canyon. Fires may be built only in the grills and must be fully extinguished before you leave. There are no restaurants in the Canyon.
CLICK HERE FOR HIKING TRAIL MAP OF MADERA CANYON
CLICK HERE FOR HIKING DESCRIPTIONS AND INFORMATION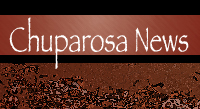 Things to do while here..
WRITE A REVIEW on
BnBFinder.com
Click below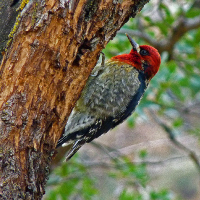 Social Media



Your Hosts:
Luis Calvo & Nancy Hertel
Chuparosa Inn
Bed & Breakfast
1300 S. Madera Canyon Rd
Madera Canyon, AZ 85614
520.393.7370