"Guest Quotes"
A Blog Post from our guest, Henry....
3/26/2018
Madera Canyon is part of the Coronado National Forest. This link is a great resource. There is hiking and picnicking, and of course, birding, but no overnight camping. However, there are several lodges, including our choice on this trip, The Chuparosa Inn, Bed and Breakfast. Our host was Luis Calvo, who you can see giving a video tour of the canyon at Visit Tucson, Santa Rita Mountains. Many thanks to Luis, his wife and staff for a wonderful spot to enjoy the canyon.
Chuparosa Inn, Bed and Breakfast
The Chuparosa Inn is right on the main road (above) but also straddles the creek (below). Luis and his wife have done a wonderful job of designing the house and yard to take full advantage of the location. We found some of our best birding was right on their decks and patios at sunrise, close to their feeders and a hot cup of coffee! I set up my tripod with a Wimberley gimbal head and waited for the show to begin.
---
"My husband and I are planning a trip to Arizona in October. The last time we were in Arizona was 2011 and we came upon your wonderful place and stayed one night in the Birds Nest, as that was the only room available. We are planning October 5th and 6th (2 nights) and I was hoping the Trogon suite or your next best room might be available? Your B&B was the first thing on my list when we decided to visit your state again (even though we are going to Sedona and Flagstaff!)."
Denise Lofstedt
---
Madera Canyon & The Chuparosa Inn – Arizona Birding Day 5 and Day 6
September 23, 2011 by birdtrekkerbc

"Our final days in Arizona were spent birding the most famous birding area in southeast Arizona, the Madera Canyon. The entire trip was amazing, and I was very pleased with every place that we were fortunate enough to visit. We did however save the best for last. The Madera Canyon is a large valley in the Santa Rita Mountains that covers almost every type of habitat imaginable. Madera Canyon is 32,000 acres in size and is made up of the lower canyon desert grasslands with riparian woodlands along an intermittent stream, bordered by oak woodlands and conifer forests in the mountains.

This is the most reliable site, according to the locals, for finding Mexican rarities and has the longest list of green-listed species in the United States. Kate had made the arrangements for us to stay three nights at the Chuparosa Inn, the last bed & breakfast on Whitehouse Canyon Rd before you reach the final parking area and entrance to the canyon. For our first night, we arrived long after dark so we weren't able to really appreciate the scenery or the 13 mile drive up the road to the Chuparosa Inn.

When we did arrive though, Nancy was waiting for us, and we received a very warm welcome followed by a tour of our suite, "The Hummingbird Suite". We settled in, then headed for bed as I knew I'd want to be getting up early to start birding. The next morning we were able to take in the beauty of the Chuparosa Inn, the scenery, and the many hummingbird feeders that Luis makes sure are refilled every morning at 6:00am. read more..
---
"Like camping without the camping…we really enjoyed our getaway here. Your location allowed us to disconnect, and stay within the near vicinity of mother nature. At the same time, the wonderful food, the warmth & comfort of the room, and your kindness & hospitality made our weekend memorable."
Alec & Lea Anne ~ Tucson, AZ
---
"We have traveled all the way from London to visit southeastern Arizona and Madera Canyon. The Chuparosa Inn has been the highlight . . . great hospitality, birding and weather!"
Simon & Liz ~ London, England
---
"Thanks so much for the best weekend retreat . . . everything was just perfect!"
Linda & Guy Atchley ~Tucson, AZ
---
"Congratulations for winding up in the world's birding headquarters! Thanks and Best Wishes!"
Kenn Kaufman
---
"Can we hibernate here? We saw four bears, a roadrunner, a whole bunch of birds we didn't recognize, and some very content squirrels within our first hour. Thanks for sharing Chuparosa."
Eric & Diana McNary ~ Detriot, Michigan
---
"Thanks for your genuine hospitality and for sharing your bit of heaven on earth. The Chuparosa Inn is just the type of place we search for when traveling, but seldom find."
Don & Deb Hintz Spencer, Iowa
---
"What a wonderful anniversary . . .an 11 mile hike thru the forest, a BBQ overlooking the creek, and all topped off with a night in the Cowboy room."
Lissa & Loring Green
---
What a delight! Your attention to detail was very much appreciated. The breakfasts were great, scenery beautiful, and the room homey. We will recommend the Chuparosa to our friends.
Roger & Diane ~ Lake St. Louis, Missouri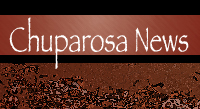 Things to do while here..
WRITE A REVIEW on
BnBFinder.com
Click below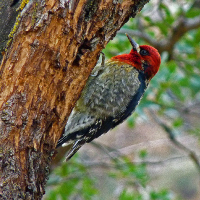 Social Media



Your Hosts:
Luis Calvo & Nancy Hertel
Chuparosa Inn
Bed & Breakfast
1300 S. Madera Canyon Rd
Madera Canyon, AZ 85614
520.393.7370